SWTOR Smuggler Builds — Why do you need one?
(Reminder: All of the builds in this guide are level 50 builds, unless stated otherwise)
Hi fellow SWTOR player! How are you doing today? So you came to this site because you were looking for some SWTOR Smuggler Builds that can help you progress through the game? Lucky you, because I am just about to give you some nifty Smuggler builds that can definitely make it easier for you to level up faster or dominate the PVP like a pro!
Smugglers are great for those who like some edginess in their game play. A profiteering class that is not afraid to break some rules to get handsome profits in return, Smugglers are best depicted by Hans Solo (yeah, remember Harrison Ford?) in the movie series of Star Wars. Adventure is the name of the game when it comes to the Smuggler class and you will be happy to know that no intergalactic police will go after you if you choose to play the Smuggler class. Divided into two advanced classes, the Gunslinger and the Scoundrel, blasters and laser guns are the weapons of choice for the players who choose to play a SWTOR Smuggler.
Like its counterpart, the Bounty Hunter class, Smugglers are great for long range crowd control and supporting tasks. If you choose to play a Smuggler, you should be smart enough to know your role in battle and allow your head to dictate what you should do in the arena. I have seen a lot of Smugglers fail in SWTOR because they act beyond their capabilities, making them easy targets and vulnerable to melee attacks. If you play your game smart and choose your battles properly, the Smuggler is one of the most annoying classes especially with their long range damage capabilities that can easily change the tide of battle.
……………………………………………………………….
WHAT SWTOR SMUGGLER BUILdS SUIT YOU BEST?
……………………………………………………………….
Well, that depends on the situation you are at and your main role in your party or your team. A Smuggler who intends to be effective in a mission or operation will most probably build towards the Support type if there are enough damagers in the team. While some others like to build for the DPS or the PVP type, many will also prefer to become Healers, so I really don't to put you in a situation where you have to choose one build over the other. Instead, I will list down all the possible builds that you can follow if you are having a hard time finding the perfect SWTOR Smuggler Gunslinger Builds and  SWTOR Smuggler Scoundrel Builds for your character. There are also other SWTOR builds and videos that you can consult if you need more information, but for now I will just focus on the most common builds used for the Smuggler Class.
I just want to point out something before we continue though. If you look at the SWTOR Smuggler builds below, you might notice that I do not put much emphasis on adding points to Black Market Mods (which increases alacrity by a certain percentage). The reason for this is because the  Global Cooldown in SWTOR stays permanently at 1.5 seconds. You cannot go any faster than that so increasing your Alacrity won't really do much to help you since you always have to wait 1.5 seconds no matter what.
……………………………………………………………….
DISCOVER SECRET SWTOR STRATEGIES FROM THE BLACK BOOK CREATED BY TOP SWTOR, RIFT AND WOW PLAYERS! GET ACCESS TO AEON SWTOR GUIDE HERE!!!
……………………………………………………………….
SMUGGLER LEVELING SPEC
……………………………………………………………….
Yes, I know. Leveling sucks. Big Time. But you won't progress in any game unless you take the time and effort to level up your characters first. Luckily for SWTOR, there are missions and operations that give ample amount of experience rewards which can help make it faster for you to reach level 50 in SWTOR. Personally, I used a SWTOR Savior Guide that helped me reach level 50 in SWTOR within 7 days. But if you don't want to use a game guide, finding a perfect leveling spec for your Smuggler is a must.
The SWTOR Smuggler builds for leveling here will be divided into two, one each for the Scoundrel and Gunslinger advanced classes. From my experience, the Gunslinger build is better suited for soloing because of the high damage output that you can deal to your opponents. I am not saying that the Scoundrel build does not fare well with solo leveling, but I just find it easier for a Scoundrel Smuggler to team up with other people or do supporting tasks in Flashpoints in order to level up. If you are looking to level up using a Scoundrel leveling spec, you might do good if there is someone to tank for you or if there are other damagers in the party that can make the clearing up of mobs faster.
Smuggler Gunslinger Specs for Leveling PVE
( 3-33-5 || Sharpshooter-Saboteur-Dirty Fighting)
Smuggler Scoundrel Specs for Leveling PVE
( 3-31-7 || Sawbones-Scrapper-Dirty Fighting)
……………………………………………………………….
SMUGGLER dPS SPEC
……………………………………………………………….
Now, in my opinion, the Gunslinger will out-DPS the Scoundrel class any time of the day. So if you are looking to go for a Pure DPS SWTOR Smuggler build, the Gunslinger class will fit you perfectly well. Not saying that the Scoundrel is a bad class for going Pure DPS. Actually, the Gunslinger and the Scoundrel advanced classes are two of the best range-DPS classes in the game (in my opinion), but the Gunslinger just has more AEO and crowd-control potential over the Scoundrel class.
For the Gunslinger class, the focus is on single-target damage along with some massive AOE potential. This will allow you to control the field and deal some damage while your other team mates are on the upfront. Fleeing, dodging and mobility along with stealth are the focus of the Scoundrel Smuggler DPS build that I am suggesting below, so you might see that the skill points are mostly invested on the Scrapper talent tree.
Smuggler Gunslinger Specs for DPS
(32-6-3 || Sharpshooter-Saboteur-Dirty Fighting)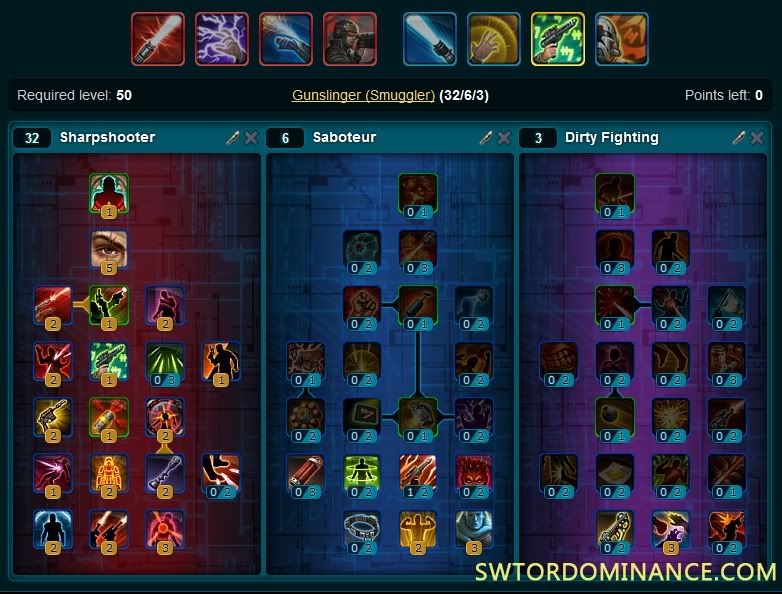 Smuggler Scoundrel Specs for DPS
(5-31-5 || Sawbones-Scrapper-Dirty Fighting)
……………………………………………………………….
WANT TO DISCOVER THE SECRET TO MILLIONS OF SWTOR CREDITS? LEARN HOW TO MAKE SWTOR CREDITS EASILY WITH SWTOR CREDITS SAVIOR! CLICK THE IMAGE BELOW TO VISIT THE OFFICIAL SWTOR CREDIT SAVIOR SITE!
……………………………………………………………….
SMUGGLER PVP SPEC
……………………………………………………………….
Alas! The PVP zone! Smugglers really make good PVP players not only because they can deal so much damage but also because you can choose to use them as support and healer types. If you ask me, I prefer to go DPS in PVP for the Gunslinger class and then go Healer type in the PVP for the Scoundrel Class. Thermal Grenade and Quickshot works wonders in PVP for crowd control and AOE so you can see it manifested on the build that I am proposing. I also added some defensive capabilities for survivability by adding skill points on Hotwired Defense.
You can also see that the Sawbone Talent Tree consumes most of the skill points for my Scoundrel PVP build but if you prefer to do other builds, always feel free to explore the possibilities. Test and tweak these SWTOR Smuggler builds according to your preferences. I just happen to like to Pure Healer/Support Spec for Scoundrel when it comes to PVP, but if you don't like it feel free to try other builds.
Smuggler Gunslinger Specs for PVP (DPS)
(5-33-3 || Sharpshooter-Saboteur-Dirty Fighting)
Smuggler Scoundrel Specs for PVP (Healer Type)
(37-3-0 || Sawbones-Scrapper-Dirty Fighting)
……………………………………………………………….
SO WHAT SMUGGLER BUILDS DO YOU THINK YOU'LL USE?
……………………………………………………………….
Great! Now you have some guide on the possible SWTOR Smuggler builds that you can use for your character in SWTOR. As always, I am not limiting your power to explore other builds as well. If you feel like tweaking the builds above to suit your gameplay and your preferences, feel free to do so! Nothing makes me happier to know that you are benefiting from these SWTOR builds so if it's not much, I would like to ask you to please SHARE the information to your friends via the Social Bookmarking tools embedded on this site.
And just to add! In case you are looking for a way on how to generate more SWTOR credits for your character, I am highly recommending the SWTOR Credit Savior. This is the NUMBER 1 "Credit-only" guide out today and it focuses only on the task of making SWTOR Credits. With the help of SWTOR Credits Savior, you won't need to buy SWTOR Credits anymore!
CLICK HERE TO ACCESS THE ULTIMATE CREDIT GUIDE THAT WILL MAKE YOU MILLIONS IN SWTOR!!!
SWTOR SMUGGLER BUILD FULL GUIDE

,